WHO?! WHAT?! HOW?!
THE PLAYERS AND THE BIO

Ex's with Benefits are...
Dmitra Smith - Vocals / Keys / Lyrics
Pascal Faivre - Guitars
Alex Vincent - Drums / Music
Dave Place - Bass


Ex's With Benefits formed in 2012 when Alex Vincent (founding drummer of the seminal "grunge" band Green River) had written some music for possible future recordings by Green River that never materialized. Not wanting the music to go to waste, he held on to them hoping at the very least, to hear what they sound like with vocals put to them. He reconnected with a high school friend, Dmitra Smith, who was fronting San Francisco band Static People, and sent some of the songs her way to see if she'd be able to put something on top of them just for sheer curiosity. The "sheer curiosity" became a real collaboration almost immediately when everything just clicked. Her slasher/siren-song vocals on top of the power-pop / punk / rock riffs meshed together in perfect combination. Soon to join afterwards was Frenchman extraordinaire, Pascal Faivre on guitar, and rumbling Dave Place on bass.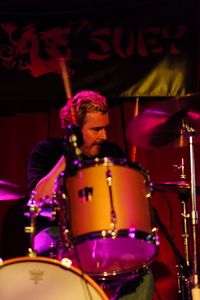 Songwriter / drummer Alex Vincent got his musical start in Seattle playing drums at the age of 16 in a popular local hardcore band, Spluii Numa. But arguably his most successful endeavor was as a founding member of the prototypical and highly influential "grunge" band Green River - whose members later went on to form the bands Mudhoney and Pearl Jam. After the break-up of Green River, Alex moved to Japan for a while, and carried on creating music both in Japan and Seattle. Because of his knowledge of band life, the Japanese music scene, and being known for Green River, Alex gained a role in the film Big In Japan (as himself - sort of) that had its premier at the SXSW Festival in 2014 to critical acclaim.  Alex is also the guitar player for Thee Deception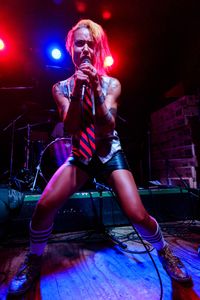 Singer and keyboardist Dmitra Smith began singing at age 8 in her native Seattle, enduring torture from a closeted and bitchy girl's choir director who punched his stomach while screaming the word "SUPPORT" at small children. She credits him for her 3 octave range. She relocated to San Francisco in 1992 to join marimba driven rock project "Fuzz Factor" with guitarist Joe Gore (PJ Harvey, Tom Waits). She was a member of industrial noise and television-exploding project "Sharkbait", as well as lo-fi indie trio "Florida." She is also the singer for San Francisco based dirty pop/post punk band Static People, as well as Black futurist Siouxsie and the Banshees tribute Voodoo Dolly.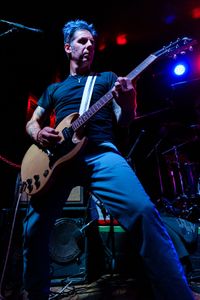 Guitarist Pascal Faivre is from Pontarlier, France, the capital of absinthe.  He  discovered punk rock at age 10, leading him put a huge box of laundry soap into the town fountain with his hooligan friends which created 4' high suds for blocks. He later formed the bands Les Cochons Dingues and Corbeaux Drivers, after wriggling out of mandatory army duty with sublime trickery. He is also a film actor who got his first taste for acting in 1973, when celebrated French director Jean Chapot cast him in a small part in "Les Granges Brulees" with Alain Delon and Simone Signoret. He performed his scenes, coaxed with chocolate, in his favorite fuzzy pajamas.  He is also the guitarist for Static People.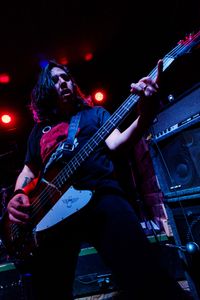 Bassist Dave Place hails from the San Francisco Bay Area. Growing up in Redwood City, Dave was raised on a steady diet of rock concerts from Boston to Motley Crue, leading him to pick up the bass at 15.  In the early 90's he realized something special was happening in Seattle and relocated not knowing a single person in the city. The goal was always to find musicians dedicated to having a good time playing for anybody, anywhere, anytime. Dave is also bassist for the bands Fires and Thee Deception.